In April don't put out your summer clothes just yet…. Unless it's to put your wetsuit on!
But surfing in cool water (yes, okay, cold) means preparation.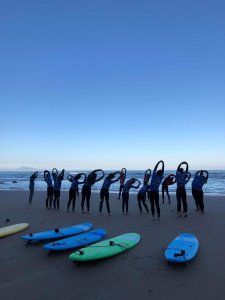 In this article we tell you how to best prepare for your surfing holiday in April in the Basque Country:
1. A good physical preparation
2. A thick and waterproof wetsuit
A good 4:3 and shoes ! The water still has its winter temperature and while surfing you spend a lot of time waiting for the waves, especially with the winter swell and its long periods. So remember to be well equipped. Whatever the brand, you will need a 4mm thick wetsuit to make sure you can stay in the water for at least an hour without getting cold.
If you don't have one, don't worry, we rent them on site or sell them at the surfshop located less than a minute's walk from the tent.
3. Use wax depending on water temperature
Use winter wax for your hepoxy or resin boards! Because you might be wearing shoes, you won't need it as much as in the Summer, but it is still very useful for your hands to avoid slipping when you do your take-off.
At Hastea we are absolutely crazy about the coconut flavoured sexwax, it flies us all the way to the Tropics! The greenfix is also great !
You can also find it in the surfshop directly on the beach of the Côte des Basques.
Press the wax lightly on the top of the board with circular movements for a better adhesion to the resin.
The places to focus on are the placement of your feet (front and back) when you are standing on the board and your hands when you are lying down.
You can also find it in the surfshop directly on the beach of the Côte des Basques.
4. Ask yourselves about surf conditions and tide times:
The apps surf report and yadusurf are the easiest to use to get an idea of the weather and swell conditions.
As for the tides, you can download the free tide calendar online from the town hall website, or check it by scanning this QR code.
You can also request your calendar at the Hastea tent.
5. Choosing the right accommodation:
There you go, with all this information you should be on top of things! ! Add to that a few good friends and you're in for a holiday that will go down in history.
Since the 1st of April, we are open every day at Hastea.
Meet us at the little striped surf tents on the beach of the Côte des Basques to book your lessons or simply rent equipment.
Xxx
The Hastea team
What's your reaction?
0
Cool
0
Bad
0
Lol
0
Sad