Well, we're not Miss Weather, in fact we don't know… The weather in the Basque Country is still very random and with the climatic disturbances we admit that we don't understand much of it anymore.
Nevertheless, for the last 2 years, during the February holidays, we have been entitled to a more than clement weather in Biarritz.
The water does not exceed 13°, but when the weather is good and beautiful outside and you have the right equipment, you'll feel right at home.
TAKING SURFING LESSONS IN BIARRITZ IN FEBRUARY
Except for exceptional swell conditions, the Hastea surf school will be open during the February holidays.
As usual, Pol will welcome you in our striped tent located on the Côte des Basques beach in Biarritz.
Surf lessons can also be organized from the Hastea surfshop, located a few meters away from the surfschool, still on the Côte des Basques beach, to the left of the Surfing restaurant when you face the ocean.
To book your surfing lessons, there are several ways:
Call us by phone at +33 6.81.93.98.66
Book your lessons directly on our website www.hastea.com after having chosen the formula that best suits your wishes during your stay in Biarritz: single surfing lessons, group or individual, or a course lasting several days. You will then need to call us the day before your lesson to find out your schedule. These depend on the tides and your surfing level.
Please note that the equipment (board and wetsuits) is included in each package.
Suitable for children and adults alike!
Don't hesitate to call us if you have any questions.
WHAT EQUIPMENT TO BRING TO SURF IN BIARRITZ IN FEBRUARY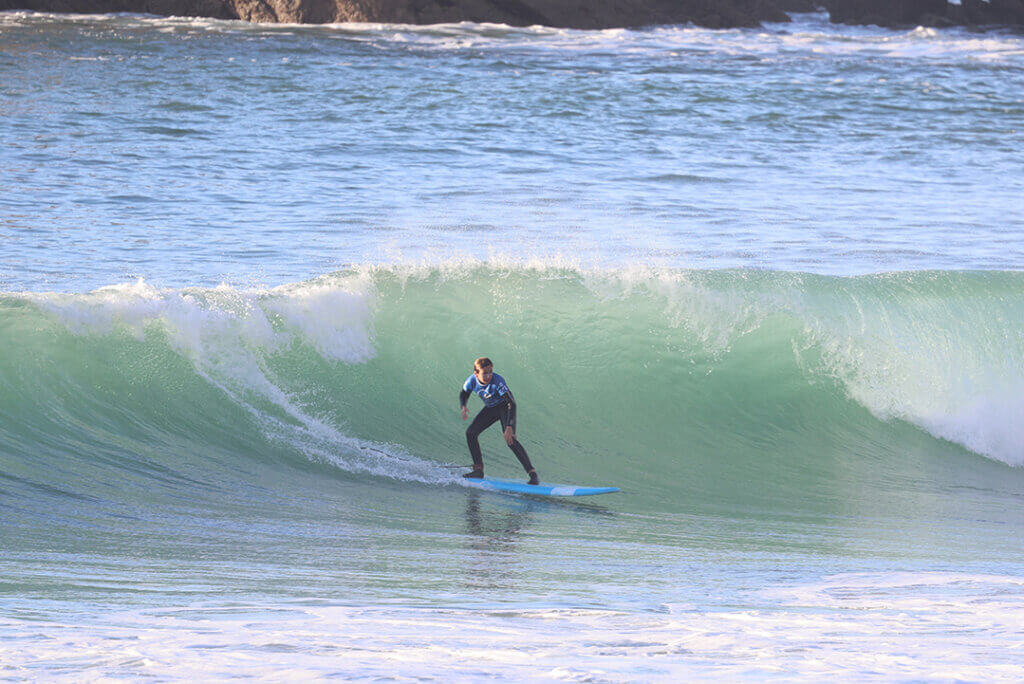 In spite of the exceptionally pleasant weather at this time of year in the Basque Country, the water temperature remains relatively low (between 10 and 13 degrees on average).
In order to be able to stay in the water for at least 45 minutes and have the chance to catch at least one wave, it is good to have the right equipment.
What you absolutely need:
A 4mm wetsuit (4.3 in the jargon), preferably with a front zip (zip on the chest rather than on the back)
Neoprene slippers. You get cold from the extremities and it's a lot harder to get on your board when your feet are frozen! Choose a thickness of 2 to 3 mm
To add for the most frigid:
Gloves: 1 to 2 mm thick are enough
A 5mm wetsuit (5.4.3 in the jargon). They are fully lined with fleece, so you are sure not to be cold! However, it will be harder to move in the water. A thick wetsuit adds resistance to movements, especially when rowing!
A balaclava: can be useful for those who can't stand cold water in their ears.
Earplugs are also very useful in winter, they prevent ear infections! The ones from @EQlove are very effective!
We've done a round-up of tips for surfing in February in Biarritz, so we'll see you soon!
What's your reaction?
0
Cool
0
Bad
0
Lol
0
Sad