The summer holidays are fast approaching and you can't wait! You are right!
Let's make a little checklist of the essentials for a good holiday in Biarritz.
Ma checklist pre-holidays in Biarritz :
1. My accomodation in Biarritz
As Biarritz is very popular in summer, it is very important to book your accommodation in advance.
You will find many hotels (see our partner hotels) but also many accommodations on Airbnb.
It is necessary to count approximately 100€ the night minimum for a studio or T2 close to the coast.
But once you're there you won't regret it, you can do everything on foot: beach / surf / restaurant / sunsets… a real holiday!
Note that the accommodation in Biarritz is often equipped with extra sofas which will allow you to come with your family or friends and to divide the costs.
The districts to be privileged if you come to surf at the Côte des Basques are, in order of proximity (cf map) :
1. The Beaurivage district, know as "bibi". You will be right above the surf spot and can check the waves directly from your accommodation.
2. The city centre (near rue Gambetta where you will find all the restaurants and the famous "Halles de Biarritz"), is also an ideal location for your pied à terre in Biarritz.
3. The Casino area and the Saint Charles area, further north on the Côte des Basques but still easily accessible on foot, by bike or by free shuttle bus. Note that walking along the coast between the casino and the Côte des Basques is a must! ! It is magnificent !
4. The Milady district, a little further south of the Côte des Basques but right next to it. You can walk from La Milady beach to the Côte des Basques beach at low tide. At high tide, you will have to go through the road.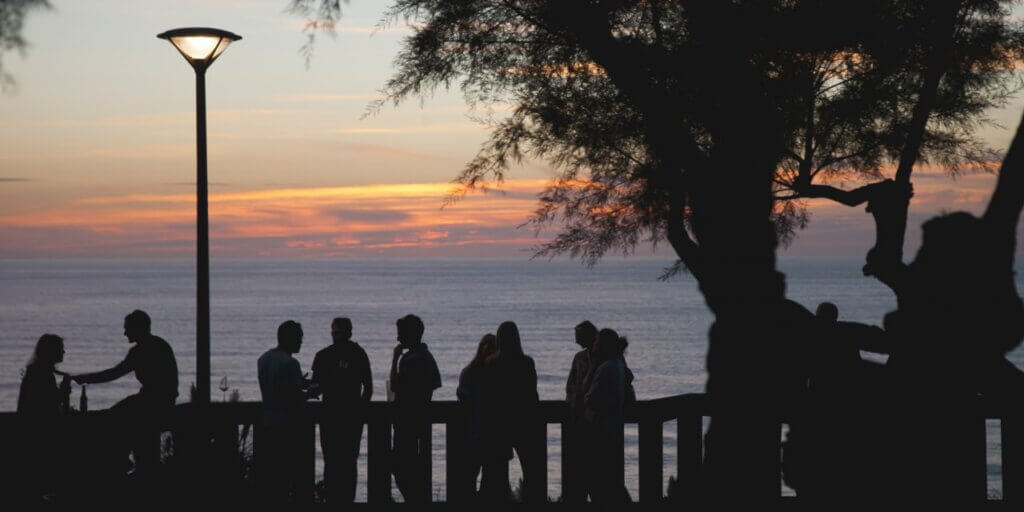 2. Transport / parking and traffic in Biarritz
Depending on how you plan to get to Biarritz, be careful about parking!
In the summer, all areas of the town centre are subject to daily parking charges, which are quite expensive.
If you are coming by car, it would be better if your accommodation is equipped with a car park.
It is also worth noting that from this year onwards, many parts of the city centre are only accessible on foot. The Côte des Basques beach is one of them.
You can find out more on the city's website.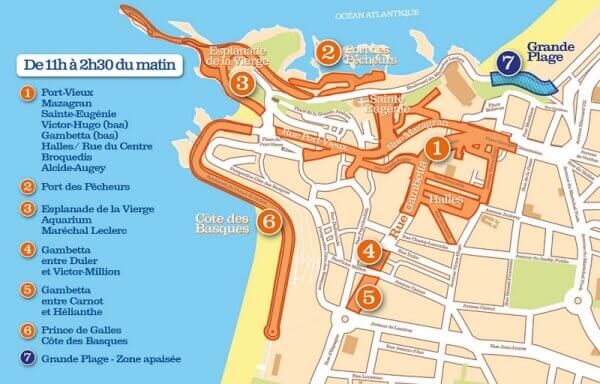 Free shuttles and Tuk-tuk are also available to facilitate your travel.
More information at : https://www.chronoplus.eu/prochain-arret-ete-2022.html
3. Book your surfing course in Biarritz
You can't come to Biarritz without at least trying out surfing !!
If you have never surfed before, it is highly recommended to take at least one surfing course.
This will allow you to learn the technical basics to get up on a surfboard and to better understand the waves and the surf spot as well as the basic surfing rules.
Because of the number of people in the water in the summer, you will be saferin a group setting with an instructor to supervise and guide you.
The surf lessons in Hastea surfschool :
Our surf school offers a variety of courses to suit your needs.
You will also find several other very competent schools on site.
Please remember to book in advance ! All schools are limited in terms of the number of students per time slot, so it's first come, first served!
You can easily book your surf course online on our website www.hastea.com.
All you have to do is book the date you want to start and choose your package.
We will then call you the day before the course starts to arrange the most appropriate times for your level and age.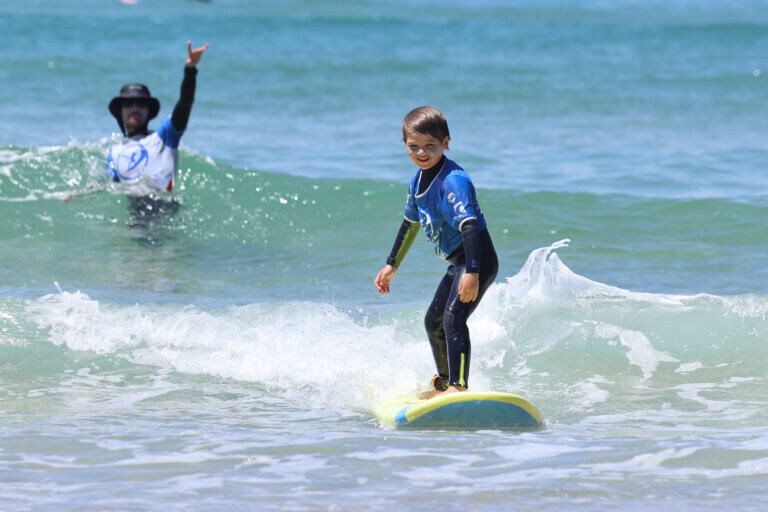 For those who already know the discipline and the spot, you can also rent all the equipment you need directly on the beach of the Côte des Basques at the surfshop Hastea
4. Take a day to explore the inner Basque Country (and enjoy other activities)
When you think of the Basque Country, you think of Biarritz and you think of surfing. But not only that!
The Basque Country is full of treasures to explore!
QWhether on the coast : diving, sailing, jetskiing … or in the mountains !
You can simply go hiking, visit the typical Basque villages and taste the local specialities.
These include Espelette and its peppers, Itxassou and its cherries, and Iraty and its cheese.
You can also enjoy other activities on site such as canyoning, guided tours in 4×4, quad, or all-terrain scooter, and many others !
Visit the Aventure 64 website to explore all the activities you can do!
The little extra: remember to ask for your Aventure 64 guide and get discounts on all the activities in the guide!
5. Have thought about all my beach gear
Of course, summer holidays = beach = sun … So we think well to equip ourselves with beach essentials: swimming costume, beach towel, sunscreen, wetsuit, sunglasses, and so on !
You don't want to carry too much on your journey ?! N Don't worry, there are plenty of shops and surfshops in the city centre and near the surf spots.
In our surfshop you will find all the Eq suncreams, Izipizi sunglasses, Roxy, Quiksilver, Billabong swimwear/clothing and wetsuits as well as all the other beach accessories: hats, towels, tennis rackets, volleyballs and children's games etc.
6. Don't forget to take a windbreaker or jumper for the rain
If this is your first time in the Basque Country, be aware that the weather is very changeable! And even in summer it can be quite cool. And even in summer it can be quite cool.
There's no need to load up on heavy jumpers, but take a windbreaker or mackintosh instead.
The uniform of Biarritz is the iconic K-Way mackintosh, which you can find in all its colours at the Place Clémenceau shop. There is also a decathlon near Anglet where you can find more affordable ones.
And that's it, we're done with our checklist !! We hope this one has helped you, but don't hesitate to call us at +33 6.81.93.98.66 if you have any other questions.
You will also find a lot of information on the website of the Biarritz tourist office https://tourisme.biarritz.fr/fr
See you soon!
What's your reaction?
0
Cool
0
Bad
0
Lol
0
Sad